This page is still being built as we strive to add descriptions for all of our voters.
Below is a list of the authors, researchers, students, entrepreneurs, activists, and environmentalists who have contributed their valuable experience and guidance to the selection of the 2012 New Earth Archive Booklist.
Please follow the links to their websites to learn more about their dedication to the pursuit of knowledge, and their contributions in sharing that wisdom with the public.
To all of you who generously lent us your time, creativity, and valuable advice in the creation of this resource to foster influential and world-changing ideas and knowledge, we give our deepest thanks.
David B. Rothenberg, PhD.
David Rothenberg has written and performed on the relationship between humanity and nature for many years.  He is the author of Why Birds Sing, on making music with birds, also published in England, Italy, Spain, Taiwan, China, Korea, and Germany. It was turned into a feature length BBC TV documentary.  His following book, Thousand Mile Song, is on making music with whales.  It is being developed into a film for the French television, hopefully to be broadcast worldwide. Other books include Sudden Music, Blue Cliff Record, Hand's End, andAlways the Mountains.
His latest book, on the evolution of beauty, and how art and science can be better intertwined, is Survival of the Beautiful, published by Bloomsbury in 2011, and has reviews in the Wall Street Journal, the Guardian, and the Telegraph. David is also a professor in the department of humanities at New Jersey Institute of Technology.
Paul Hawken
Paul Hawken is an environmentalist, entrepreneur, journalist, and author. Starting at age 20, he dedicated his life to sustainability and changing the relationshipbetween business and the environment. His practice has included starting and running ecological businesses, writing and teaching about the impact of commerce on living systems, and consulting with governments and corporations on economic development, industrial ecology, and environmental policy. 
He has written seven books including four national bestsellers The Next Economy (1983), Growing a Business (1987), The Ecology of Commerce (1993) and Blessed Unrest (2007). The Ecology of Commerce was voted in 1998 as the #1 college text on business and the environment by professors in 67 business schools. Natural Capitalism: Creating the Next Industrial Revolution (1999), co-authored with Amory Lovins, has been read and referred to by several heads of state including President Bill Clinton, who called it one of the five most important books in the world today. Paul is also the founder of the Natural Capital Institute, a research organization located in Sausalito, California.
David W. Orr
David Orr is the Paul Sears Distinguished Professor of Environmental Studies and Politics and Special Assistant to the President of Oberlin College and a James Marsh Professor at the University of Vermont. He is the recipient of five honorary degrees and other awards including The Millennium Leadership Award from Global Green, the Bioneers Award, the National Wildlife Federation Leadership Award, a Lyndhurst Prize acknowledging "persons of exceptional moral character, vision, and energy." He has been a scholar in residence at Ball State University, the University of Washington, and other universities.  He has served as a Trustee for many organizations including the Rocky Mountain Institute (www.rmi.org) and the Aldo Leopold Foundation (www.aldoleopold.org).
His career as a scholar, teacher, writer, speaker, and entrepreneur spans fields as diverse as environment and politics, environmental education, campus greening, green building, ecological design, and climate change. He is the author of six books and co-editor of three others. Ecological Literacy (SUNY, 1992), described as a "true classic" by Garrett Hardin, is widely read and used in hundreds of colleges and universities. A second book, Earth in Mind (1994/2004) is praised by people as diverse as biologist E. O. Wilson and writer, poet, and farmer, Wendell Berry.
Maurie Cohen, Ph.D.
Maurie Cohen is an Associate Professor at the New Jersey Institute of Technology where he is Director of the Program in Environmental Policy Studies and the Program in Science, Technology and Society, and also is an Associate Fellow at Tellus Institute . He has held prior academic positions at the University of Leeds, Binghamton University (State University of New York), Mansfield College (Oxford University), and Indiana University. Dr. Cohen is the co-founder and co-convener of the Sustainable Consumption Research and Action Initiative (SCORAI), an international knowledge network comprising academics, policy makers, and practitioners working at the interface of material consumption, sustainable systems innovation, and economic transition.
He also serves as the editor of Sustainability: Science, Practice, and Policy, an open-access e-journal dedicated to the wide dissemination of scholarly research and professional insights on sustainability and is a Board Member of the Princeton School Gardens Cooperative. Dr. Cohen's books include Exploring Sustainable Consumption: Environmental Policy and the Social Sciences (with Joseph Murphy), Risk in the Modern Age: Social Theory, Science, and Environmental Decision Making, and The Exxon Valdez Disaster: Readings on a Social Problem (with J. Steven Picou and Duane Gill).
Stewart Brand
Stewart Brand is co-founder and president of The Long Now Foundation and co-founder of Global Business Network. He created and edited the Whole Earth Catalog (National Book Award), and co-founded the Hackers Conference and The WELL. His books include The Clock of the Long Now; How Buildings Learn; and The Media Lab. His most recent book, titled Whole Earth Discipline, is published by Viking in the US and Atlantic in the UK. He graduated in Biology from Stanford and served as an Infantry officer. Stewart Brand has helped to define the collaborative, data-sharing, forward-thinking world we live in now. Since the 1960s, he has maintained that – given access to the information we need — humanity can make the world a better place. One of his early accomplishments: helping to persuade NASA to release the first photo of the Earth from space. The iconic Big Blue Marble became the cover for his Whole Earth Catalog, a massive compendium of resources and facts he thought people might like to know. And we did: the 1972 edition sold 1.5 million copies.
Erik Assadourian
Erik Assadourian is a Senior Fellow at Worldwatch Institute where he has studied cultural change, consumerism, degrowth, ecological ethics, corporate responsibility, and sustainable communities, over the past 10 years. Erik is currently co-directing State of the World 2012: Moving Toward Sustainable Prosperity and wrote "The Path to Degrowth in Overdeveloped Countries" for the report. He also manages theSustainable Prosperity blog.
Erik also directed State of the World 2010: Transforming Cultures: From Consumerism to Sustainability. Erik continues to direct theTransforming Cultures project, which explores innovative new ways to intentionally and proactively transform cultural norms so that living sustainably feels as natural as living as a consumer feels today. Most recently, through this project, Erik co-designed an eco-educational scenario for the popular board game Settlers of Catan, Catan: Oil Springs, which he hopes will help players grapple personally with climate change, the tragedy of the commons, and the difficulties of continued growth in a finite system.
Andrew Revkin
Andrew C. Revkin, Senior Fellow for Environmental Understanding at Pace Academy, and Dot Earth blogger forThe New York Times, is one of the most influential and respected reporters on the environment.  He is the first two-time recipient of the National Academies Communication Award. He's covered global warming before the topic was widely recognized and explained the science and politics of the environment via journalism, books, and films.
Revkin earned his bachelor of science in biology from Brown University in 1978 and a master's degree in journalism from Columbia University in 1982. He wrote for publications including Science Digest, the Los Angeles Times, Audubon, Conde Nast Traveler, Newsday, and The New Yorker, publishing path-breaking reports on global warming 19 years ago in Discover magazine. He joined The New York Times as an environment reporter in 1995.
James Hoggan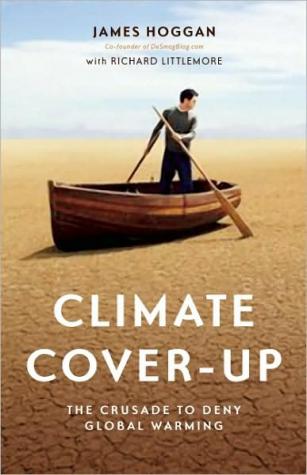 Jim Hoggan is one of Canada's most respected public-relations professionals and the president and owner of the Vancouver PR firm Hoggan & Associates. A law school graduate with a longstanding passion for social justice, Jim also serves as chair of the David Suzuki Foundation—Canada's most influential environmental organization—and as a Trustee of the Dalai Lama Center for Peace and Education.
Jim is the cofounder of Stonehouse Standing Circle, an innovative public-engagement and communications think-tank, and the former chair of The Climate Project Canada—Al Gore's global education and advocacy organization. He also led the Province of British Columbia's Green Energy Advisory Task Force on Community Relations and First Nations Partnerships. In 2011 he co-founded the influential website DeSmogBlog, chosen as one of Time Magazine's Best Blogs for 2011.  He is the author of two books, Do the Right Thing: PR Tips for Skeptical Public, and Climate Cover-Up: The Crusade to Deny Global Warming. He speaks, writes, and presents widely on public attitudes toward sustainability, climate change, and the environment.
Francesca Rheannon
Francesca Rheannon is producer and host of Writer's Voice. A life-long bibliophile, reading is her favorite thing to do and books are her preferred decor. She also writes about sustainability and corporate ethics as Senior Writer for CSRwire, where she is also Senior Editor of CSRwire's blog, Talkback.  She co-founded and co-produced Sea Change Radio, a weekly radio show and podcast on sustainability.
An award-winning freelance radio journalist, her pieces have appeared on NPR and public and community radio stations around the country. Francesca is currently writing two books: PROVINCE OF THE HEART: A Post 9/11 Memoir of Provence (working title), and THE ARGONAUTS, the story of an underground community in wartime Amsterdam to which her father belonged. She's also a member of AIR (Association of Independents in Radio).
Jonathan R. Curley, Ph.D.
Jon Curley is university lecturer in NJIT's Department of Humanities, and a Fulbright Fellow.He graduated from Brown University with a BA, and earned his PhD at New York University. He's the author of Poets and Partitions: Confronting Communal Identities in Northern Ireland, and the more recent collection of his poems, New Shadows, which he read from as the featured poet on Dec. 2 at 8 p.m at Art House Productions in Jersey City.
Gernot Wagner, Ph.D.
Gernot Wagner, Ph.D., is an economist at Environmental Defense Fund, where he works in the office of economic policy and analysis to advocate for market-based solutions to a wide range of environmental problems. His particular focus is on climate and energy economics. 
He holds a bachelor's in environmental science and a master's and Ph.D. in political economy and government from Harvard, as well as a master's in economics from Stanford.He teaches energy economics as adjunct faculty at Columbia's School of International and Public Affairs. He is also the author of But Will the Planet Notice? (2011) published by Hill & Wang/Farrar Strauss & Giroux. Gernot served on the editorial board of the Financial Times as a Peter Martin Fellow, where he covered economics, energy, and the environment.
Jonathan F. P. Rose
Mr. Rose, 58, is the founder and president of the Jonathan Rose Companies, which specializes in sustainable development. The company is involved in both nonprofit and for-profit projects and is one of the largest developers of affordable housing in New York City. Mr. Rose is a Trustee of several organizations including: the Urban Land Institute (and was a founding co-chair of its committee on Climate, Energy and Land Use); the Natural Resources Defense Council; and vice chair of Enterprise Community Partners. 
He serves on the leadership councils of the Yale University School of Forestry and Environmental Studies and the Yale School of Architecture, and chairs the Trust for Public Land's National Real Estate Council. He also chaired the Metropolitan Transit Authority's Blue Ribbon Sustainability Commission, which developed the nation's first green transit plan.  He' also serves on the Garrison Institute's Climate, Mind, and Behavior Steering Committee.
John A. "Skip" Laitner
John A. "Skip" Laitner is the Director of Economic and Social Analysis for the American Council for an Energy-Efficient Economy (ACEEE). He previously served almost 10 years as a Senior Economist for Technology Policy for the US Environmental Protection Agency (EPA), but chose to leave the federal service in June 2006 to focus his research on developing a more robust technology and behavioral characterization of energy efficiency resources for use in energy and climate policy analyses and within economic policy models.
In 1998 Skip was awarded EPA's Gold Medal for his work with a team of other EPA economists to evaluate the impact of different strategies that might assist in the implementation of greenhouse gas emissions reduction policies. In 2003 the US Combined Heat and Power Association gave him an award to acknowledge his contributions to the policy development of that industry. In 2004 his paper, "How Far Energy Efficiency?" catalyzed new research into the proper the characterization of efficiency as a long-term resource; he's published over 280 papers, and serves as Director of Economic and Social Anaylsis for the organization Economics for Equity and the Environment (E3).
George Marshall
George Marshall, founder of the Climate Outreach and Information Network (COIN) and Director of Projects, has twenty years experience in research and campaigning and outreach for environmental and indigenous rights organisations. He has worked as a senior campaigner for Greenpeace and the Rainforest Foundation, and as a policy consultant to the German and Papua New Guinean governments. He has authored fifteen major reports and won nine awards for his video documentary work.
Before joining COIN George was one of the founders and co-ordinators of Rising Tide, a national network of grassroots climate change campaign groups. He has spoken and written widely on climate change issues and sustainable lifestyles including articles for The New Statesman, The Guardian, and The Ecologist. He is the author of Carbon Detox, a popular book offering "fresh ways to think about personal action to climate change" and is the creator of the blogsite www.climatedenial.org, which examines our psychological responses to climate change. His 1930′s terraced house in Oxford (www.theyellowhouse.org.uk) is a case study in eco-renovation and achieved 60% reductions in energy and water use.  
David Eggleton lives in Dunedin, New Zealand. He is a writer and a performance poet, and has performed his work in many venues to all kinds of audiences, both in New Zealand and overseas. His first collection of poems, South Pacific Sunrise (Penguin Books), was co-winner of the PEN Best First Book of Poetry Award 1987. He was the 1990 Burns Fellow at Otago University.
Eggleton was a judge in the 1997 Montana-New Zealand Book Awards, and poetry category advisor in the 1998 Montana-New Zealand Book Awards. He won the inaugural Book Reviewer of the Year Award in 1991 and the Book Reviewer of the Year Award in 1997, and has been short-listed in 1995, 1996, 1998, and 2000. He was judge of the 1999 Whitireia Poetry Award and judge of the 2000 Takahe National Poetry Competition. He has had several collections of poetry published and is included in anthologies of New Zealand poetry.
He is acknowledged in the Oxford Companion to New Zealand Literature for promoting poetry as popular entertainment and embodying the conflicts and combustions within a vibrant young culture.
Karen Ehrhardt-Martinez, Ph.D.
Karen Ehrhardt-Martinez is a nationally recognized expert on the behavioral dimensions of climate change, and is the Garrison Institute's Director of the Climate, Mind and Behavior (CMB) program. She holds an M.A. and Ph.D. in Sociology from The Ohio State University. 
Dr. Ehrhardt-Martinez has nearly 20 years of experience in applied and academic research with a focus on the social and behavioral dimensions of energy and climate change. She comes to the Garrison Institute from the Renewable and Sustainable Energy Institute (RASEI) at the University of Colorado, where she remains a Senior Research Associate. She is a cofounder of the Behavior, Energy and Climate Change (BECC) Conference and served as the BECC Conference Chair in 2009.  Prior to that she led the American Council for an Energy-Efficient Economy's (ACEEE) research program on the social and behavioral aspects of energy efficiency and environmental change.
Susan Bodnar, Ph.D.
Susan Bodnar is a practicing clinical psychologist. She also teaches as an adjunct faculty member at Teachers College/Columbia University and The Stephen Mitchell Relational Center. Also, she works as an assistant editor of "Psychoanalytic Dialogues," and serves on the editorial board of "Contemporary Psychoanalysis." Having studied anthropology at Wesleyan University, she received her PhD from The Graduate Center of the City University of New York. She completed a post-doctoral fellowship in medical psychology at Roosevelt Hospital, and psychoanalytic training at the William Alanson White Institute. She also maintains a Sustainability blog, Ordinary Earth.
John Ehrenfield, Ph.D.
John Ehrenfeld currently serves as Executive Director of the International Society for Industrial Ecology. He retired in 2000 as the Director of the MIT Program on Technology, Business, and Environment, an interdisciplinary educational, research, and policy program. He holds a post as Senior Research Scholar at the Yale School of Forestry and Environmental Studies. His current projects focus on sustainability and industrial ecology, and he's the author of Sustainability by Design, a well-received deeply considered book that challenges conventional understandings of "solving" environmental problems and offers a radically new set of strategies to attain sustainability
In October 1999, the World Resources Institute honored him with a lifetime achievement award for his academic accomplishments in the field of business and environment. He received the Founders Award for Distinguished Service from the Academy of Management's Organization and Natural Environment Division in August 2000. He is an editor of the Journal of Industrial Ecology, holds a B. S. and Sc. D. in Chemical Engineering from MIT, and is author or co-author of over 200 papers, books, reports, and other publications. 
Rick Diamond, Ph.D.
Rick Diamond has been a Senior Advisor at the California Institute for Energy & the Environment (CIEE) since 2006, presently developing support for R&D in behavior and decision-making related to energy efficiency. He was instrumental in the creation of the Behavior, Energy, and Climate Change (BECC) conferences– an international forum for social science research and its application to climate and energy challenges. Rick is a Staff Scientist and Deputy Group Leader of the Energy Performance of Buildings Group at Lawrence Berkeley National Laboratory.
Diamond has a B.A. in Visual and Environmental Studies from Harvard College, and an M. Arch. and Ph.D. from the University of California at Berkeley. He has been on the faculty at Harvard University's Graduate School of Design, the California College of Arts and Crafts, and as a visiting professor in the Architecture Department at UC Berkeley.
Gyorgy Buzsaki, M.D, Ph.D.
György Buzsáki is a Board of Governors Professor of Neuroscience at Rutgers University, NJ. His primary research interest is how neuronal circuits code, transfer and store information, and how different brain oscillations provide a 'neural syntax' to support such coding. . Using technically innovative, multi-site recording probes in behaving animals, he identified the cellular-synaptic basis of theta, gamma oscillations and sharp waves with associated fast oscillations, and explored how these patterns support cognitive functions, such as memory. 
Dr. Buzsáki has delivered numerous distinguished lectures, and is a recipient of several honors, including the 2011 Brain Prize (shared with P. Somogyi and T.F. Freund), Elected Associate, Neuroscience Research Program (2006), Research Award for Distinguished Scholarship, Rutgers (2006), Elected Fellow, AAAS (2004), ISI's "Most Cited 250 in Neuroscience" (2004), Krieg Cortical Discoverer Award (2001), Foreign member, Hungarian Academy Sciences (2001), Distinguished Lecturer, Collége de France (1998, 2006), the Pierre Gloor Award, American Clinical Neurophysiology Society (1997),  Excellence in Research Award, Rutgers University (1995). He sits on the editorial boards of several leading journals, including Science and Neuron.
Carrie Norton
Carrie Norton is the Founder and President of Green Business BASE CAMP, a global immersion training program and on-line education platform for early stage green business and clean tech entrepreneurs.  Her broad expertise in sustainable business and entrepreneurship has evolved as strategic career choices allowed her to appreciate a range of perspectives, starting with her positions at Garage Technology Ventures and Idealab.
Most recently, Carrie served early-adopting clients such as Google, Sony, and British Telecom as a senior executive responsible for Market and Project Development during her 7-year tenure in the commercial solar power industry.  She is a Catto Environmental Fellow of the Aspen Institute, Class of 2010. Carrie co-founded the Sustainable Business Council of Los Angeles, and her community leadership also includes work with Grid Alternatives, the Clean Economy Network and Net Impact. She's also an adjunct Faculty member at the Graziadio School of Management at Pepperdine University, and earned an MBA from Thunderbird School of Global Management.
Richard R. Johnson
Richard received a B.S. in Civil Engineering from Rice University, and a Masters in Urban and Environmental Planning from the University of Viriginia. He came was appointed to the position of Sustainability Planner for Rice in 2004. In 2007, he was promoted to the position of Director of Sustainability. Richard also serves as the Associate Director of the Center for the Study of Environment and Society (CSES). Richard holds an appointment as a Professor in the Practice of Environmental Studies in Sociology and has taught several classes at Rice. Richard is also a research fellow for the Kinder Institute for Urban Research.  
Samantha Neufeld
Micah J. Loudermilk
Cary Mandel
Scot Gresham-Lancaster
Deborah Gallagher, Ph.D.
Deborah Gallagher is the Assistant Professor of the Practice of Resource and Environmental Policy at the Duke Nicholas School of the Environment, and Executive Director of the Duke Environmental Leadership Program. She earned a BS in Chemical Engineering from Northwestern University, and a PhD in Public Policy from UNC Chapel Hill. Her experience lies in public policy analysis, business sustainability, environmental leadership, brownfields and environmental justice.
P. Brian Fisher, Ph.D.
P. Brian Fisher is an Assistant Professor in the Department of Political Science & Environmental Studies at the College of Charleston. He earned his Ph.D. for UC Irvine, and his research specializes in  Environmental Justice, Vulnerability and Vulnerable Peoples, Human Security, Climate Adaptation, Law/Policy of Climate Change.
Leena Raut
Leena Raut currently works as an attorney for the U.S. Environmental Protection Agency, and served as the deputy attorney general for the New Jersey Division of Law.  She earned her B.S. e in Science, Technology and Society (STS) from the College of Science and Liberal Arts (CSLA) at NJIT in 1999 and a master's degree in Environmental Policy Studies (EPS) from CSLA at NJIT in 2001.
Celeste Salter
Camilla Burg
Simon Williams
James Greyson
In 2005 James founded the global revival think-tank, BlindSpot for the collaborative development of systemic policy options capable of working at sufficient scale and speed. He presents his research in NATO Advanced Research Workshops and publishes in the NATO Science for Peace and Security Programme. James takes part in the EU-funded Global System Dynamics Network, connecting international expertise in policy-making informed by understanding whole-systems. He has also been active with the UN Climate Neutral Network and the UK Sustainable Development Panel. James leads a major international collaboration of 500 systems-thinking experts and enthusiasts, 'Fixing Systems Not Symptoms', and is a Moderator for the MIT Climate CoLab.
Silviana Gabriel
Bert Jacobson
Mahbubur Rahman Apu
Donald Wheeler, Ph.D.
Michelle McCauley
Leonard Ornstein
Robert Jaffe
Nancy Jane Moore
Johan Jansson
Yumeng Wen
R. W. Adamchak
Marian Glenn
Andy Lau
Frank Schorn
Mary Mangan
David Tribe
Felix Ares
Denali Hussin
Jonathan Koomey
Evan Weissman
Ken Carr
Carla Dhillon
Neva Goodwin
Charles Stanier
Connie Weber
Chris Dudley
Michael Loew
Edward Burgess
Amelia Vance
Jon Clark
Alonso Botero
Roy Wallis
Kim Shearer
Emilie de Brigard
Nick Chapman
Chris Stratton
John Greene
Carol Hansen
Tom Mulcahy
Rafael E. Cartagena
Rosemary Samalot
Dava Silvia
John P OGrady
Jeroen Crapp
Steve Webb
Tsung-Chi Chen
Seonaidh McDonald
Peggy Lemaux
Sang-Wook Han
Bill Evans
Daniel Auerbach
John Kintree
Eric J. Olson
Monica Aufrecht
Pam c Ronald
Abbie VanSickle
Marcus Elmore
Kent Portney
Beau Pihlaja
Mike Bendzela
Jane Shevtsov
Michael Jensen
Tina Quitiquit
Umang prabhakar
Scott Ingram
Jason Leppig
Loren Byrne
Richard Skora
Robert Gardner
Suzette Dewey
Tim Furst
Eric Huskinson
Randall Williams
Bob Bresnahan
Alexandra Miller
John Cook
Jim Cummings
Lynne
Elizabeth Gnazzo
Laura Doula
Larry Ayers
Susan Cobb
Jim Stuttard
Sonia Ribeiro
Troy Lange
Casey Yazejian
James Tichenor
Laurie Dougherty
Kerry Barringer
Sarah Moon
Share and Enjoy