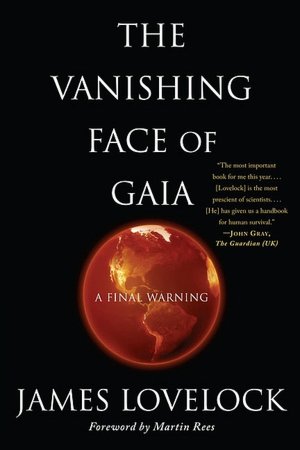 by James Lovelock
Basic Books; First Trade Paper Edition edition (April 27, 2010) 
Celebrities drive hybrids, Al Gore won the Nobel Peace Prize, and supermarkets carry no end of so-called "green" products. And yet the environmental crisis is only getting worse. In The Vanishing Face of Gaia, the eminent scientist James Lovelock argues that the earth is lurching ever closer to a permanent "hot state" – and much more quickly than most specialists think. There is nothing humans can do to reverse the process; the planet is simply too overpopulated to halt its own destruction by greenhouse gases.
In order to survive, mankind must start preparing now for life on a radically changed planet. The meliorist approach outlined in the Kyoto Treaty must be abandoned in favor of nuclear energy and aggressive agricultural development on the small areas of earth that will remain arable.
A reluctant jeremiad from one of the environmental movement's elder statesmen, The Vanishing Face of Gaia offers an essential wake-up call for the human race.
You can read a  Guardian Book Review by Peter Forbes at http://www.guardian.co.uk/culture/2009/feb/21/james-lovelock-gaia-book-review
Or read a review by Alexander Zaitchik of the Adbusters.org magazine at http://www.adbusters.org/magazine/86/vanishing-face-gaia.html

Below, watch the author, James Lovelock, explain his views on Gaia Theory in his video presentation of "The Vanishing Face of Gaia"
You can see the remaining two parts of this 3-part video series at http://www.youtube.com/watch?v=Eg7Jt_Yzl1o.
For more information on Gaia Theory and to get access to the latest publications and scientific research on the subject, visit James Lovelock's website at http://www.jameslovelock.org/page0.html
Share and Enjoy
TAGS: Biology, Climate Change, Consciousness, Environment